Event
12 - 14 June, 2019 - Brittany, France
Organised by the ECCO consortium, Énergie Partagée and Énergies citoyennes en pays de vilaine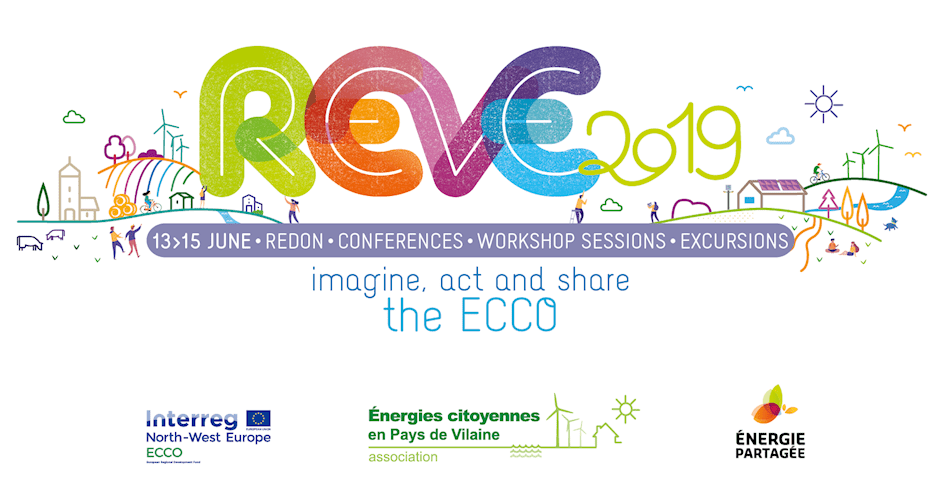 From 13 to 15 of June 2019, the European ECCO network will hold its 3rd transnational conference in Brittany (France) to share visions and exchange experiences of sustainable community energy projects.
For 3 days, workshops, conferences, debates and excursions will bring together politicians, energy communities and its citizens, and other stakeholders.
The programme
The program is entirely built around discovery and collective adventure. It covers a wide range of activities and topics and targets both starters discovering citizen energy as well as people who are already experienced in a broad range of energy related topics such as renewable energy, energy efficiency, energy flexibility, e-carsharing, .....
Professionals in renewable energies, guides, citizens, students, ... are all welcome to share, dream and work together for an energy transition that puts citizens and communities at its core.
Practical information
Start: Wednesday, June 12, 18h
The conference takes place in different places of Redon (Brittany):
ISSAT Pays de Vilaine
6 rue de la Maillardais 35600 Redon
REDON Agglomération Bretagne Sud
3 rue Charles Sillard 35600 Redon
Ciné Manivel
12 quai Jean Bart 35600 Redon
Energies citoyennes en Pays de Vilaine (EPV)
7 rue SaintConwoïon
Download the map of brittany →
Photo contest: "A citizen renewables project: what an adventure!"
On the occasion of the European energy meetings REVE2019, Energie Partagée and the association of 'Energies citoyennes en Pays de Vilaine' organise a photo contest on the theme of adventure. This is an opportunity to show THE picture showcasing your community energy adventure.
We invite all projects to send us photos (in jpeg HD format, maximum 3 photos per project) before May 26, 2019 to communication@energie-partagee.org.
The votes and the awards ceremony will take place during "REVE 2019".
This conference is organised in collaboration with the INTERREG ECCO project.
The positive effects of the project's activities are possible thanks to financial support from the European Regional Development Fund provided by the Interreg North-West Europe programme.