Empowering Czech communities: building a sustainable and democratic energy future
Members article by Rachel Aguilera & Anna Michalčáková, UKEN
In late March, the Community Energy Union hosted a seminar dedicated to fostering cooperation between municipalities, investors, and citizens. The aim? To create long lasting energy communities and to bring more attention to the hot-button topic of implementing more renewable energy in Czechia. Our primary focus was to address the critical issue of local residents' acceptance of renewable energy sources.

Just last year, the Community Energy Union was formed with a strong mission: to reimagine and revolutionize Czechia's current energy system, transforming it into a decentralized, clean, and climate-friendly institution.
Our efforts encompass lobbying for legislation, conducting research and introducing practical methods for citizens to actively participate in this movement to save our climate. Increasing the direct participation of individuals is essential to establishing energy communities as local involvement translates to increased acceptance and support from those most directly impacted by climate change.

The need for a supportive legal framework
The seminar began with emphasising the need for legislation aligned with existing European directives that introduced for the first time a right for all EU citizens to engage in the energy market and set up their own energy community initiatives to promote their local energy transition. The Czech Republic lags behind on their obligation to transpose the EU provisions on energy communities into national legislation, posing a hurdle to the adoption of the New Energy Act and other legal provisions vital for promoting energy decentralization, and fair market regulation, essential for the acceptance and integration of energy communities.
Relatedly, creating a conducive subsidy environment is crucial. Over 60 billion CZK will be available by 2030, and to maximize its utility, we must revise subsidy programs and build a network of investors and consumers with equal incentives for participation. The National Energy and Climate Plan and State Energy Strategy also require revisions to facilitate significant development in the energy sector.
Participation lies at the heart of community building
We recognize that garnering public participation is one of the most substantial challenges when bringing clean, renewable energy to local communities. Ineffectively handled, energy projects can face resistance, simply adding to the barriers that prevent the progress of developing a cleaner, renewable energy.
This issue is particularly prevalent in Czechia. This seminar aimed to provide a platform for speakers — including experts in law, sociology, civic participation and even a mayor — to outline the steps required to overcome these challenges and spark discussions on effectively cooperating among various stakeholders to create (energy) communities. Following the seminar, we have compiled a comprehensive brochure that delves into the speeches and provides additional information to support the discourse on energy communities and cooperation.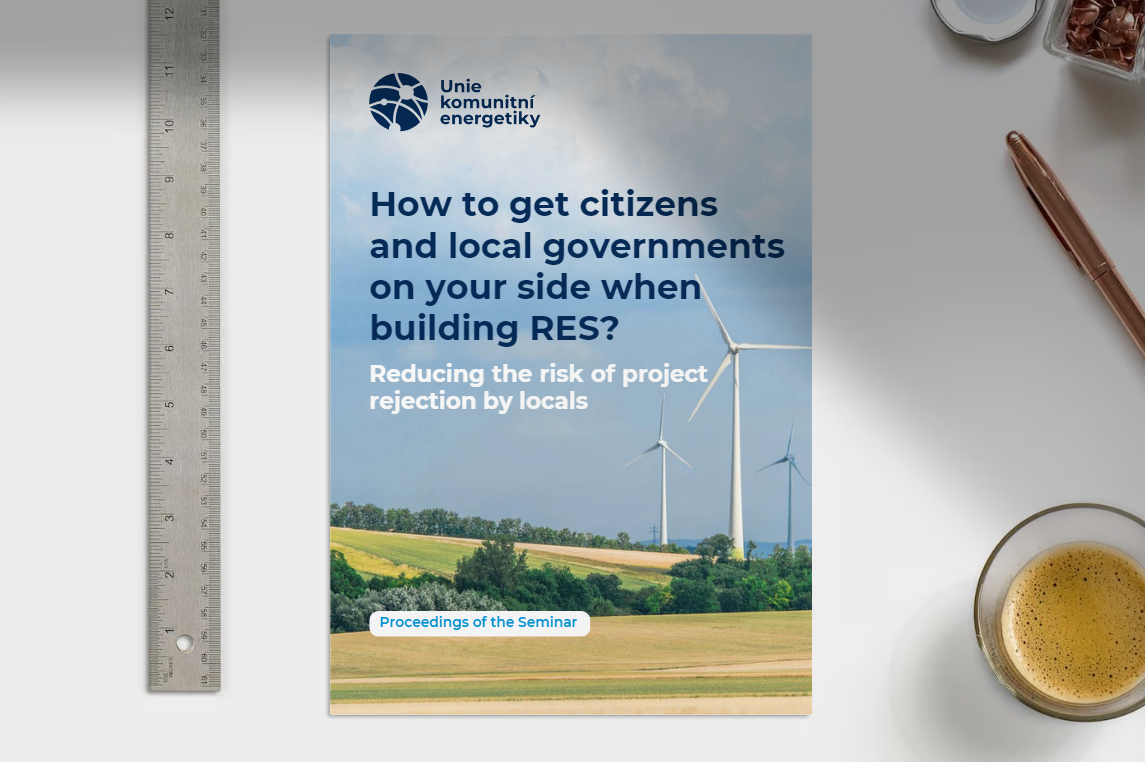 From cooperative contracts to conflict resolution: paving the way for successful participation
While reaching an agreement on how to establish a (energy) community is challenging, it becomes more attainable when following the right process and maintaining regular feedback. Additionally, it is essential that the final agreement benefits all actors, including the municipality, citizens, and investors alike. There is not a one-size-fits-all approach to establishing an energy community; it requires a shared vision for the future and compromise.
We don't have to agree on everything. "You don't need people to have a clear preferred destination. But they should have a story map of how the future may unfold. They need something to discuss," says Ondráš Přibyla, an expert on conflict resolution. He adds "Even people who disagree can have constructive conversations with each other."
Building trust among all involved parties is a pivotal step in reaching this agreement. A transparent approach, clear communication, examples of good practice and thorough explanations can lead to the desired goal. It is important to involve as many locals as possible, especially when putting a project to a municipal referendum. "Don't participate to check a box. You need this information. Use different tools to explain the venture and provide all the relevant information. Communicate the venture clearly and in time, identify and win over people who have influence over the opinions of others. Offer solutions to meet the needs of local people," advises Michaela Švandová from Nadace Via, summarising the rules of successful participation.
Envisioning the future of energy
One crucial step to garnering public support and participation is helping citizens imagine the future that they are working toward. Community energy comes in different forms, adaptable to the needs of different communities and participants, encompassing a range of different services. Projects can begin with self sufficient apartment buildings and public buildings incorporating photovoltaic technology. Additional projects include creating sustainable neighborhoods and housing developments that leverage existing infrastructure to become more climate-friendly.
Community energy is essential for a cleaner and brighter future for Czechia. Reforming our energy sector is a collective endeavor, requiring active engagement from local communities and individuals who are looking to bring necessary change.